If you showed up here thinking you'll get a ready to work niche and you will start getting 10K+ hits from day 4 with just 2-3 posts on your new blog then I would suggest you to leave right away. Because anybody came in with this (or similar) thought maybe gonna disappoint later.
Hello there,
This is your host and dost Krishan Kumar warmly Welcomes you to The Best Internet Marketing Library in Making – Harkuchh. You may or may not know about Harkuchh.com already. If you know, then fine but if you've never ever heard off this blog before, then I would suggest (strongly) you to go through this post once. Please, it's kind of a request!
Ok, now let's talk about the real matter.
As I already explained in the previous post (link given above) that I'm here in Blogging industry since 2012 and have lived almost all the situations a Bloggers goes through. There was a time when I used to work my ass off and barely making any money and then came a time when We were literally printing dollars all day and night. Thanks to Adsense Baba!
But, since Sunder Bhai has become the BOSS, dhandhe ki total watt lag gyi! I mean;  making money with Adsense became harder than ever. And No-one can refuse to agree on this!
So we started looking for another thing worth doing. After some days of thinking, We decided to try our hands with eCommerce. And since September 2016 We were totally into Shopify mode. In this period we've successfully built a store which is now running really good and bags us 6 figure INR every day on an average. Still, We think believe that it's hardly 1% of our capability. No doubt We're doing good but We can (and will) do much bigger.
So, as we were in only eCommerce mode we wholeheartedly stopped all Blogging projects. We fired all our employees (which was indeed a big heartbreaking task but in business you need to take this kind of step sometimes). But a few days back, a group of bloggers and Internet Marketers reached our city accomplishing their goal of Digitizing India with a program named All India Digital Skill Mission
A few days back, a group of bloggers and Internet Marketers reached our city accomplishing their goal of Digitizing India with a program named All India Digital Skill Mission (AIDSM) and like every other blogger we also got Facebook updates about their meeting in the city. We were busy but because their effort and mission were somewhere related to our business we could not afford to miss that meeting so we reached the venue (a Lil bit late) in Mohali Phase-8.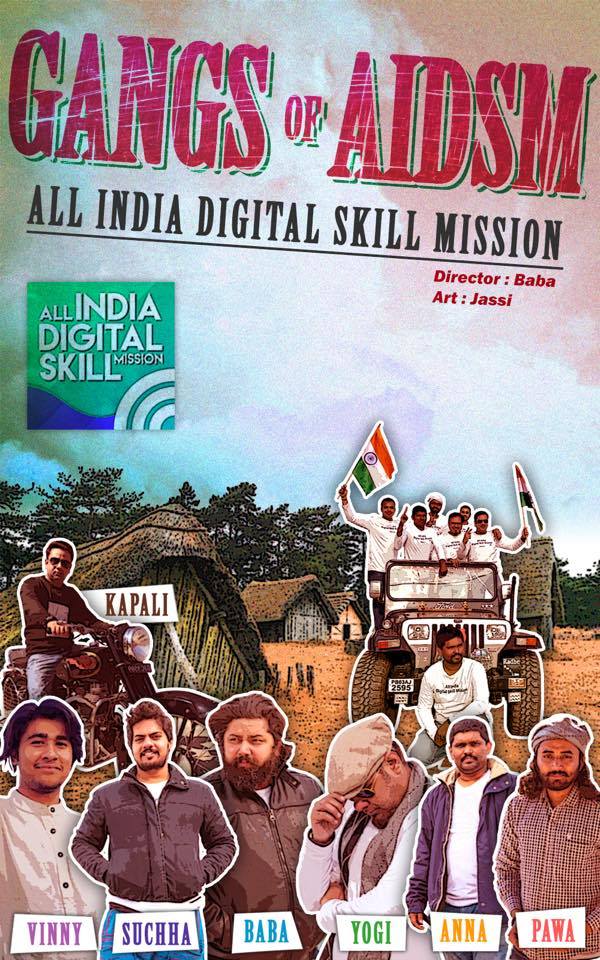 There I met the whole AIDSM Team. Those were some really passionate people on their way to reach almost all cities of the country via a traveler van continuously for two or maybe three months, which is undoubtedly a praiseworthy decision.
By following the tradition meeting started and first off everybody shared their Introduction like their Names, what they have been doing currently, why they were there and what they have done so far. This way the event got kicked off and then started the flood of ideas, facts, right and wrongs, philosophy, present, the past, future, and so many other things. We also shared our knowledge about creating and growing an eCommerce business.
Some of the most profitable points I clearly remember were like these…
What mistake(s) most people are doing in the Blogging business.
The right and wrong way of doing Blogging (very important).
How to pursue the Blogging and/or Internet Marketing Business as a career.
Can the Internet really become a Future making tool? If so, how.
How to build backlinks for blogs the right way.
How many young kids have been destroying their life just for some quick cash!
These all points are those about which every Blogger and Internet Marketer need to think about and find serious answers. Seriously!
Here comes the best part…
In the end after having Tea & Snacks, in follow-up session, everybody got asked to share at least one suggestion (advice) and ask any question in mind. Everybody shared good stuff like a guy said – `Never ever include any good friend or relative in your running business.` I too believe if you're ignoring this suggestion today, you will most likely regret tomorrow. I did not write this article for the purpose of moralizing the Dos and Don'ts of Internet Business so I won't talk about that thing here in detail.
Now it was my good friend and literally the kindest person I've ever met Mr. Sai Ramesh's turn and a girl asked him the most common question gets asked people doing good; `On which niches you work?` and His reply was…
I work on niches nobody or very few people works on!
He added "Yes undoubtedly I work on competitive niches too but a big part of my money comes from untapped niches.
That's it. This point instantly planted an idea in my mind. And after that, I started thinking deeply to find anything which people may be searching for online but Internet has no much data about that. Even though I have no time to work on blogs, still I don't know why I kept on thinking for that thing all the time since I heard those words from my friend. I was thinking about it really hard. Maybe that's because Blogging has become an integral part of my life.
After thinking for 2 night and a day I got that! I suddenly remembered a problem many people suffer and I searched for that on Google in no time and guess what? barely any quality informative content was available on Internet about that particular thing.So I decided to give it a try, it was a try because I was not 100% sure if that thing really gets searched. Yes, I checked the keyword planner but it had no much data about that. Still, I decided to give it a try. And as soon as I published 2 articles in 2 days, the blog hit 10K daily visitors since day 3 or 4. It was an absolute magnificent response which was tough to believe.
So I decided to give it a try, it was a try because I was not 100% sure if that thing really gets searched. Yes, I checked the keyword planner but it had no much data about that. Still, I decided to give it a try.
Here comes the unbelievable part!
As soon as I published 2 high-quality lengthy (2500+ words) articles in 2 days, the blog instantly hit 10K daily visitors since day 3 or 4. It was an absolute magnificent response which was tough to believe for me as same as it's for you.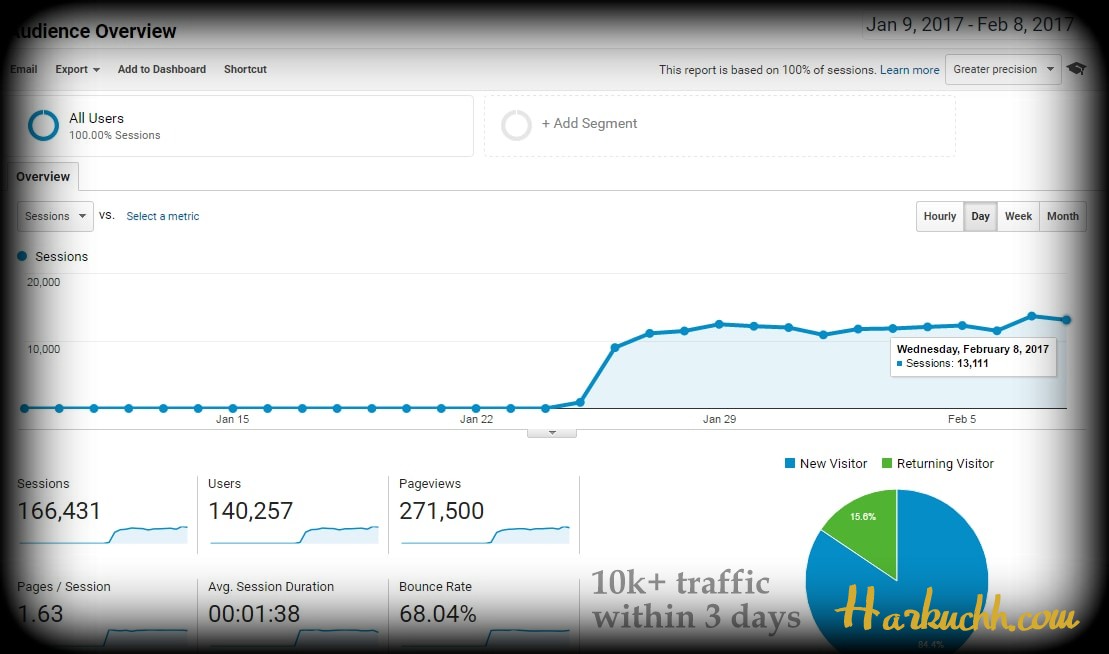 I know what I'm going to say is not what you want to hear but still, I've to. The thing is, I can neither share that niche nor the blog URL as off now (I just want to work on it deeper). But you know what, that's not important at all. The thing which is important is this…
You have to find anything, I repeat, find any topic which is less (or no) competitive but people may be searching on Google for it. Once you get that thing, you just need to conduct a research for its content and write a few high-quality detailed articles on your blog.
On-Page SEO should be up to the mark (this is the secret sauce) and that's it! You will rank in no time, you will start getting traffic in just a few days or maybe hours.
But before all, think of that thing. That idea. That's the most important point here. And as this is literally the most important factor, no doubt it isn't gonna be so easy. Yes, it is a bit Difficult, but hey… if you can't even do this much hard work, Sir Al Pacino got to tell you something…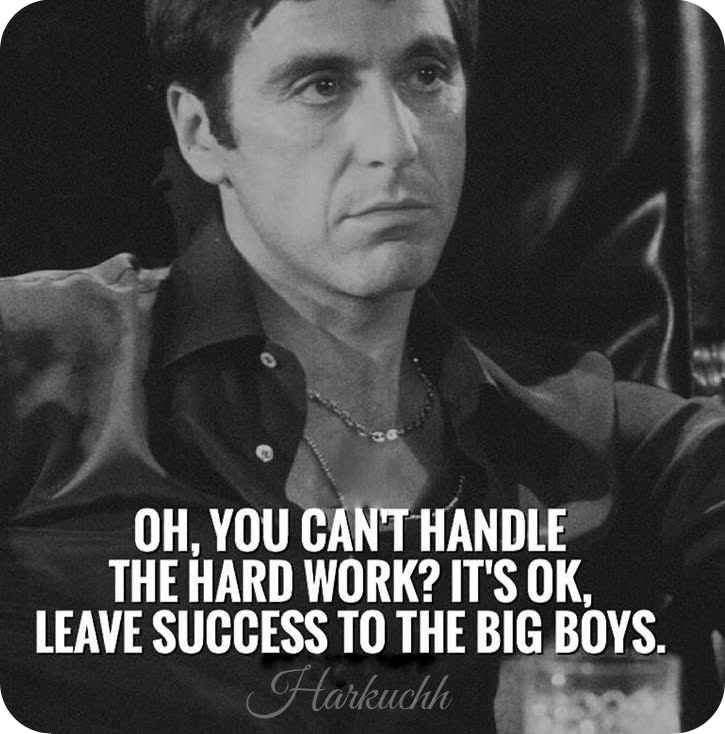 Ohh.. You still here! Ok then, now I think you really want good things to happen to you and you're ready to pay off. Great, The To-Do list is simple and short.
Find a topic with searches but no competition on Google (there are so many, spend time thinking & searching).
Research for content. Read books, Wikipedia, Quora or anything you can.
Book domain & Hosting (EMD will be like Icing on the Cake – सोने पे सुहागा )
Write 4-5 genuinely informative articles with proper On-Page SEO (if this not done right, nothing will work)
Put in some good quality relevant images with proper SEO optimized names.
Set-up Google Analytics & Webmaster (Search Console) accounts.
Share your content on social media platforms like Fb, Twitter, G+ & Pinterest.
You done! You don't need to do any hard practice to get traffic to your new blog. Backlinks are not very much needed because you need extra support when you are competing against big players, and if you're competing against no-one (or a weak one) you don't need to have AK47 on your side. But still, if you make some good links it gonna make your position stronger of course.
The reality is, Everybody has ideas, but very few dare to show them, very few dare to take their idea to the public. What others do with their idea is… they just keep on thinking about their idea. And the reason behind is this… They fear change! People don't work on their ideas because of the mental barrier. They scare to act on their idea because that requires them to leave their comfort zone.
They do think, they do worry, they do everything other than the actual work and then they think Why? why their idea is not working? why they also are not successful? why are they living a shitty life? Why are they not getting any success?
The answer to all these why is; ideas don't work unless you do.
No matter how brilliant idea you have in your mind if you aren't doing anything with it, it's not gonna make any fucking penny for you! Surprisingly, this stupid reason is the biggest reason behind the most failures in this universe. So strange but so true.
Every person in this world have some dream, everybody wants to have something (if not everything) but a very few genuinely works to get it really done. It can't be better said than this….
Two percent of the people work, three percent of the people think they work and ninety-five percent of the people would rather die than work!
More than 95% people are trying to get there but only in their mind. Their try is as fake as Aletta Ocean's tits! This may sound funny but in real it isn't! But yes, not everybody is same, some people actually do work and still they don't get success. Because all they do is, work hard. They don't give a shit to think or plan about their system to reach the goal, and without thinking and analyzing, no work gonna help you for long, no matter how much hard work you put in. So I would suggest you to Work Smart instead of working hard.
Don't complain. Don't think too much. Take action, analyze numbers, again put in some work. Enjoy!
Hope you got the message! Do you agree on this? what do you think? In case you have got anything to share, the comment box is just a Lil scroll down.